DOES YOUR SET-UP


INSPIRE YOU?
You spend over 2500 hours at your desk each year! You deserve to enjoy it! Clear the clutter, improve your workflow and boost your productivity to a new level!
UNLIMITED TO-DO/ WORKSPACE

SUPER STORAGE OF YOUR STUFF
Goodbye

sticky notes

DeskBuddy™ Smart Whiteboard is the #1 Ultimate tool
to stay on top of your to-do list, increase productivity, and keep your desk clean and organized!
No More Sticky Notes!
Instant Note-Taking on Demand
Elevate Your Phone & Tablet
Use With Desktop Or Laptop
Hide Away The Clutter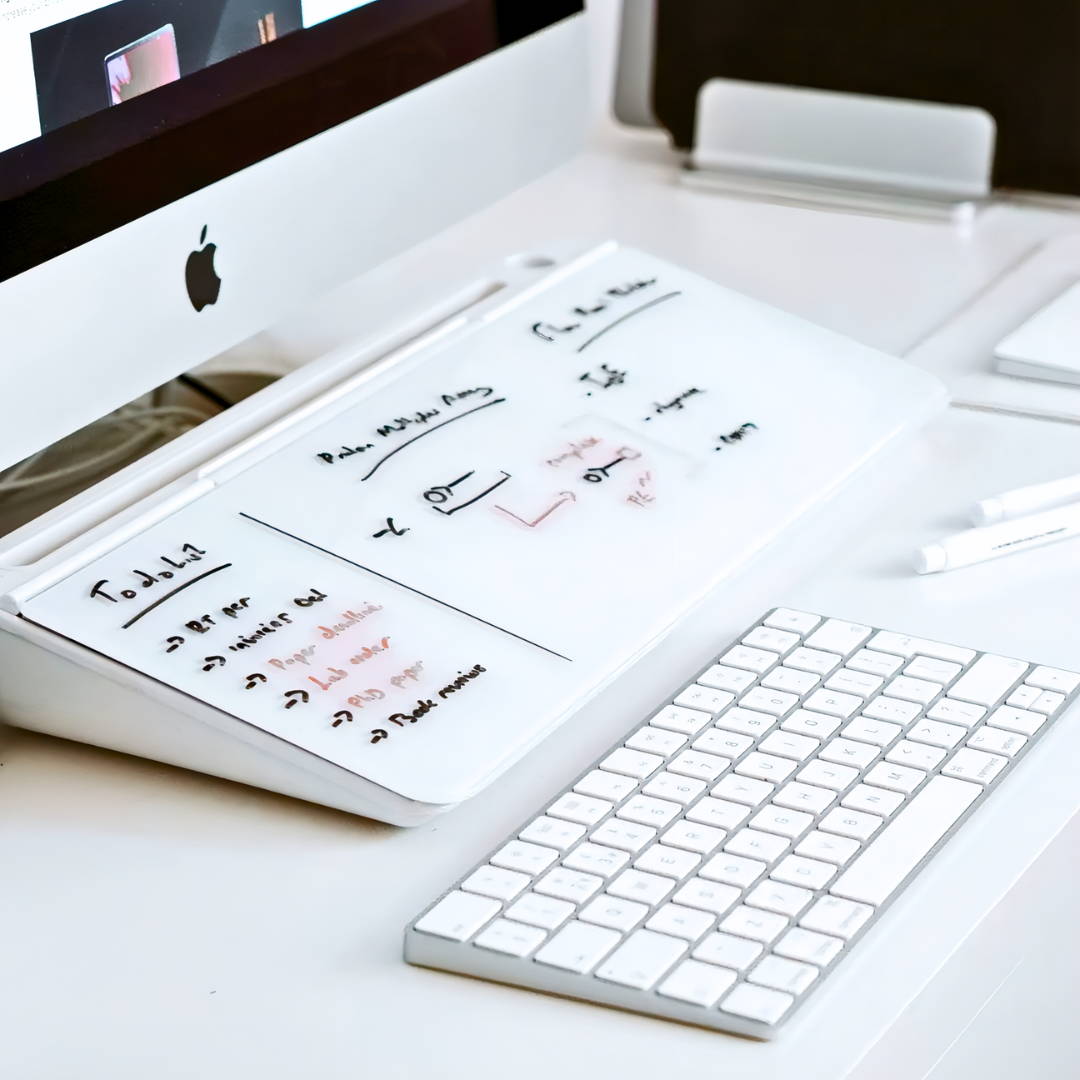 A

better

way to note.
The DeskBoard Buddy's surface is made from an ultra premium, thick, anti-stain and scratch resistant glass panel, perfect for taking notes and erasing them with ease when finished.
Superb

storage

Organize your desk space by storing all of your pens, pencils, highlighters, rulers, paper clips, staples, and other desktop accessories in the DeskBuddy's™ hidden accessory storage compartment.
Multi-Purpose Board
freelancer's desk

kid's EDUCATION
office use
Fast shipping in 3-4 Days
What Our Customers Say
Rahul Maru
I like everything about this white board computer stand. It keeps everything close at hand and organized. I no longer have to keep a pad for notes now that I have the white board. My phone, pens, calculator are all close at hand. Such a perfect office product for my home based accounting practice.
Virag Seth
This whiteboard is a lifesaver for my desk. It's so convenient when I need to quickly write something down and then erase after. The lid lifts up so you can store what you need in it too. Helps with keeping all the post-it notes off my desk!
Product Description
Criteria

Features

Dimension

40 x 18 x 5 Centimeters

Material

ABS + Tempered glass

Colour

White, Gray

Recommended Uses For Product

Business Professional, Teacher

Package include

Deskbuddy™️Whiteboard x1
Marker x1
Eraser x1
Frequently Asked Question